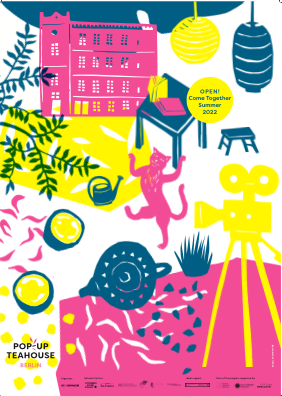 Pop-Up Teahouse Berlin: MONDAY MOVIE NIGHTS – ASIAN FILM SERIES
The MONDAY MOVIE NIGHTS -ASIAN FILM SERIES is a community initiative by scholarship holders of Konrad-Adenauer-Stiftung (KAS), led by Pisen Sou, Global Communications student (MA) at the University of Erfurt. It is supported by the Asia-Pacific Department of KAS. Connecting communities via visual stories is a powerful way to build an understanding of societies in their different cultural, societal and historical settings. Besides watching the films together, the evenings will also be a space for interaction and discussion facilitated by the hosts. On the part of C*SPACE Annette Heimann, previously managing director of the Asia Berlin Forum e.V., will act as a co-host.
In addition to the KAS-fellows-led and hosted film series – at the Pop-Up Teahouse at C*SPACE Berlin – we are delighted to also welcome the Taiwanese Film Festival again as a host for a film screening of one of this year's Taiwanese Film Festival Films.
𝐒𝐞𝐩𝐭𝐞𝐦𝐛𝐞𝐫 𝟓𝐭𝐡
𝙇𝙞𝙠𝙖𝙮 𝙎𝙩𝙖𝙧 – 𝙁𝙧𝙤𝙢 𝙩𝙝𝙚 𝙅𝙪𝙣𝙜𝙡𝙚 𝙩𝙤 𝙩𝙝𝙚 𝙏𝙝𝙖𝙞 𝙊𝙥𝙚𝙧𝙖 | Marco Wilms | Thailand | 2013 | 70'
The documentary is about a 9-year-old jungle child named Manop who dreams of becoming a star in Thailand's most popular folk opera LIKAY. Marco follows the Burmese refugee's journey from his school's chicken coop in the middle of the jungle to the stage to preform with his idol and Thailand's LIKAY superstar CHAIYA MITCHAI.
Host & moderator: Pisen Sou
Screening & talk with director Marco Wilms
The Asia Film Series is part of the "Pop-Up Teahouse Berlin" cultural project that was initiated by C*SPACE in 2021with intention to co-create a space for the Asian/Berlin community and anyone else interested in a deeper understanding between cultures, and in East-West encounters. As much as the Teahouse is a place to rest and relax, it is a social space to rethink and discuss ideas, as well as a stage for the arts ranging from dance, literature, theater to film screening.
Thanks to support from Stiftung Mercator and KAS-Konrad Adenauer Stiftung most of the programs are free of charge. C*SPACE Berlin is a co-working, creative and project space run by C-SPACE Berlin gGmbH – social enterprise.