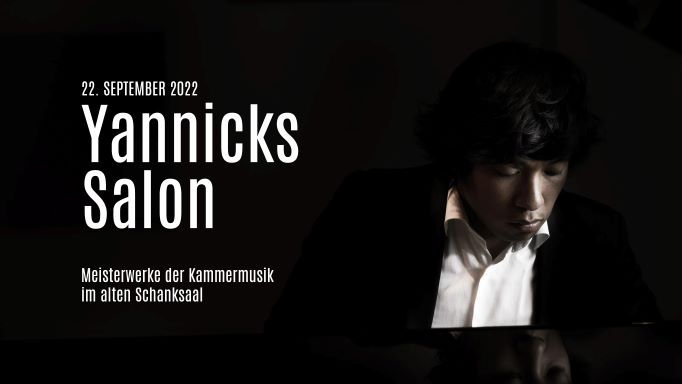 Yannicks Salon
Der mehrfach ausgezeichnete Pianist Yannick Rafalimanana präsentiert Meisterwerke der Kammermusik in lauschiger Salon-Atmosphäre. Mit dabei: Weitere ausgewählte Meisterinnen und Meister der Klassik! So waren bei der Auftaktveranstaltung im Rahmen der Fête de la Musique 2022 dabei: Inmo Yang, Pablo Barragán und das Marie Luise Bestehorn Duo. Nun folgt im September die zweite Ausgabe.

Beginn: 19:00 Uhr
Tickets: Demnächst verfügbar unter www.peteredel.de!
Links:
Artist:in
Yannick Rafalimanana

Yannick Rafalimanana

French pianist Yannick Rafalimanana has developed an international concert career performing recitals and chamber music concerts regularly throughout Europe, the United States, South America, Africa, Asia and the Middle East. Winning the first prize in the 2012 Tufts/New England Conservatory Soloist Competition, he made his US debut in Symphony Hall in Boston, playing Schumann Concerto with the Boston Pops Orchestra under the baton of Keith Lockhart.
He recently performed at the Berliner Philarmonie, in Shanghai Symphony Orchestra Chamber Hall, in the Konzerthaus in Vienna, the Kennedy Center in Washington, live on Boston's radio station WBGH, in Jordan Hall with the Borromeo String Quartet, in Boston with violists Kim Kashkashian and Thomas Reibl, in Poland with violinists Andreas Reiner, Arnold Steinhardt and in Shelter Island (NY) sharing the stage with Itzhak Perlman. He also made his Brazil recital debut performing at the Mube Museum and his Israel debut performing at the Jerusalem Music Center.

Mr. Rafalimanana has won numerous awards and prizes in several competitions, including the Borromeo Quartet Guest Artist Award, the Bruxelles J-Musiciens Competition, the Brest Piano Competition, and the International Ravel Academy's Rotary-Lions Competition.